Welcome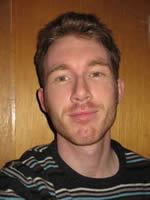 Hello and welcome to the website of Norwich English. My name is Martin Harris. I teach English privately from my home in the centre of Norwich.

I began teaching in Kraków, Poland, as a 'native English speaker' in 1999. There I taught both privately and in schools. Since then I have taught people of various ages and abilities; from complete beginners to more advanced students; from children and teenagers to adults of all ages.

I love teaching and try to pass on my enthusiasm for language learning to my students. I believe my role as a teacher is to inspire as much as it is to educate. Language learning must be enjoyable and stimulating.

I also speak Polish, which comes as an advantage when teaching Polish students. For more information see the Polish language page on this site.
If you are interested in finding out more, please phone me on 07968 849008 or email me at the address at the top of this page.

I hope this website will also be useful as an English language resource. Here you will find free pronunciation exercises with audio files to download and listen to. I will continue to add to these resources, so please keep visiting!

Distance learning e-lessons via skype are now available.

I also offer a proofreading and text editing service. Whether it is coursework, a thesis, a job application, a cv, or any other text, I can correct spelling and grammar, and help improve style, clarity and consistency, depending on your requirements.